Being a part of a desi household, who is unaware of the crazy theories in the hose? All crazy things that make you question your birth in a brown house. Sometimes these are hilarious and sometimes quite frustrating too. Brown family philosophies that drive you crazy are mentioned below, go find your match!
THE DESI ALARM
This is a very irritating tool used by our parents. In every desi household, two alarms exist, and funny how effective they really are!
Turning off the Fan!
Although this tactic is very irritating, it works just fine. When you're in a deep slumber, having the sweetest dreams. your Ammi Jaan comes in and yells for once, "uth jao nalayaq" and turns off the fan, leaving you sweating in this summer. But mission accomplished:
YOU ARE WIDE AWAKE!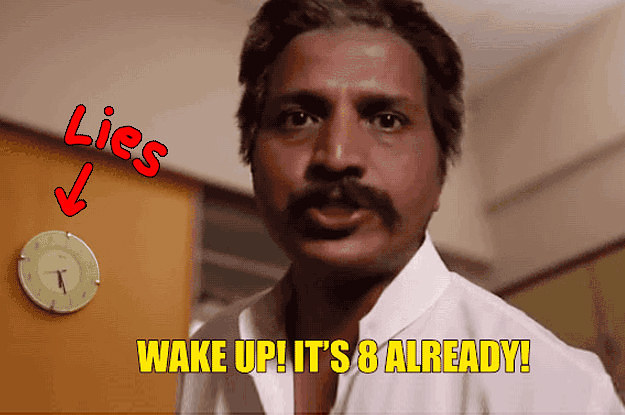 Telling the incorrect time!
You're lucky if you can see the time yourself from your wall clock or cellphone.
Because your Ammi Jaan will probably tell you it's 11 am while the clock says it's 9 am. We might disagree with this tactic too, but ah! This works good enough as well.
THE DINNER IS READY, JALDI AO!
Desi household scam 101; Khana tayyar hai jaldi ao, whereas in reality, abhi tou roti banni shuru hui hai!
DON'T BROOM THE HOUSE AT NIGHT!
Apparently desi culture says all bad luck is associated with some pointless act of yours. We don't see it was brought to us because we were being foolish and not working upon gaining something.
Instead, we are busy thinking why can we not broom at night?
Because if you broom at night, kuch bura ho jayega, and that kuch bura is undiscovered till date.
MUSKURANA MANA HAI!
I guess our parents complain most of the time about us being moody. They think we are not smiling and laughing being a devdas. The moment they catch us smiling, their stare is worth the watch!
They doubt about your relationship status instantly and you have to make them believe it was just a meme.
YOU ARE FREE TO CHOOSE YOUR SUBJECT, LEKIN DOCTOR BANNA HAI
Yes, they tell us to choose what we want, but that is merely words.
And all the children out there become an engineer like Saqib Mamu or a doctor like Nasreen Aapa ki beti!
GIRLS DON'T GO OUT BUT YOU CAN GO WITH GUDDU:
This literally drives us crazy.
Larkiyan akely bahr nahi jatien lekin it is very safe to go at the nukar wali dukan with 5year old guddu, who calls you aapa apparently.
NO GOL ROTI? RISTA GOL AB!
Brown parents and families have some attachment with gol roti. Only a gol roti seems like the key to an excellent rishta.
NAZAR LAG GAE HOGI
The only reason behind everything can either be the child using too much phone or that damn evil eyes.
Brown people got three eyes, the left eye, the right eye and the evil eye!!
YOUR DAD IS CALLED SUNYIE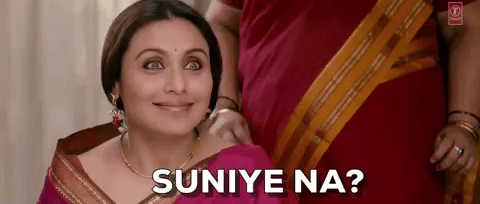 Awkward, but desi women kinda consider it haraam to call their majazi khuda by their name!
GOING OUT=ANSWERING A QUIZ
Do you intend to go out? You know what it means?
It means you have to answer the ten thousand questions which follow when you seek permission from your parents!
Yes you might be 20 or 25 but did you forget you live in a brown family?
ABBU AND BAHIYA ARE THE ULTIMATE KINGS
The feminist in you might go outrageous but the males of the family definetely get more protocol.
Sara will make the chai!!
Sara will bring the water!! Sara roti banado!!
Sara kaprey iron kardo!!
Sara jooty polish krdo!!
Sara……..!!!
AREY BARI LAMBI UMAR HAI..
Ever went to see someone and got the good news of a long life?
Haha, desis doing it right, they get to know about how long you gotta live if you pop up when they missed you.
Although in reality, miss koi nahi karta, beth ke tumhari buraiyan kar rahey thy Saeed uncle…
WAS A CROW CAWING AT YOUR WINDOWSIDE?
If a crow was casually sitting at the window side this morning, you better be prepared. The nost annoying aunty shabana will be coming for your rishta today.
Or maybe abbu's best friend Zahid uncle would be visiting, asking you for the tenth cup of tea in two hours.
Listen to the poor crow, he's not hungry but probably is giving you signs. Definitely aj mehmaan aayenge!
MILLIONAIRES HAVE THEIR RIGHT PALM ITCHING
Desi philosophy says, if your right palm is itching, you will be rich very soon.
Paisy tou hatheli khujany sy aarhy hsin, mehnat who?
Well, this doesn't make sense but a good motivation for our procrastinating selves.
So desi families are stuck in these pointless, dramatic theories. just if they stop it, Rukhsana aur Farkhanda aunty bh hamari favourite ho jayegi. Just if they stop it, Saleem uncle is not that bad.
Which one of Brown family philosophies that drive you crazy more than any?